To take, or not to take cycling class?
Frankly, I had always thought cycling was intuitive and could be self taught. In fact, like many adults of my age, I didn't take any formal cycling lessons to learn to cycle. There was no cycling schools and cycling classes then. I began to cycle when I was small kid. I was adventurous to try, and having bruises were common. I had abundant of time to self learn because I didn't have classes for swimming, drawing, music, etc.. I could afford to learn cycling slowly and, sometimes, dangerously when cycling down the slopes without knowing how to brake properly. Then, there was no proper guidance and system. Everything was trial and error. Getting a cycling instructor was unheard of. But the desire to go cycling with my friends and neighbours motivated me to keep on trying, especially when my friends could happily cycle around while I could only stood aside to watch. I wanted to cycle.
In a span of 2 years, a French mum has asked me to teach her 3 daughters to cycle at 3 different occasions. After coaching her youngest girl to cycle, she said,"Thank you so much , Ryan. I have no more children for you to teach." I burst out laughter.
However after hearing a skating student's mother asking me for advices as she faced difficulties to teach her girl to cycle. I gave her some tips on what she should focus when teaching her kid to cycle. But after heeding my tips, she initiated if I could teach her kid to cycle. She wanted a systematic and an "outsider" to push her kid to learn cycling. My method worked well and her girls managed to cycle in 2 hours. She was very amazed and introduced me to other parents who also had problems to teach their children to cycle.
So now, I am also teaching adults and kids who face problems to cycle. With proper guidance and instructions, an average person can actually pick up cycling in 1~2 hrs.
Dear students/parents,
If you want to use your own bikes or shared-bikes, please seriously take note that your (or your kids') heels MUST FIRMLY touch the floor when sitting on the bicycles bare foot. If not, you will need to borrow or rent. I have encountered some overlooked this requirement and bring along a big bike. Please also make sure the bikes are in good cyclable condition. Don't bring one with broken brakes or punctured tyres, and expect me to produce magic. Please check the bike days before the lesson so that we can have productive training.
You have already missed many joyous moment with your families and friends if you can't cycle.
I have taught many adult students who came to me for various reasons. Mothers who wanted to cycle so that they could join their children instead of sitting on the benches watching them disappeared far away. Others wanted to cycle so that they could join their peers' cycling activities, and not left out.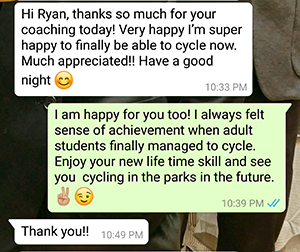 For adults who are still shy to learn cycling, adult comprises about 40% of my students for cycling. Mostly are in the 30-40 age range. A 2 hour bike lesson could benefit you for the rest of your life.
I know many other cycling instructors/schools assure that age is not a problems to learn cycling. Yes, age is not as long you are keen to learn. However the older you are, the weaker your stamina and fitness. These will definitely hinder your learning. Your mind can wait, but can your bodies?
Many adults were surprised and overjoyed when they managed to balance and cycle in 2 hours. It was a lifetime skill they had been trying to master for the past 20 years.
If you have tried to cycle and it doesn't work, do it again but differently. If you don't give yourself another chance to learn, you will forever won't cycle.
In modern days, many people want to pick up a skill in a shortest period. Attending a cycling class is the best option as the experienced instructors know the most effective methods to guide the students to master cycling without trial and error.
Parent: Ryan, do you give tuition?
Me: No…umm… Why?
Parent: You are very patient. I want you to give my kids tuitions.
Me: LOL….
If you are still skeptical whether shall you take a proper cycling lesson, you can try yourself first. From experience, in fact, most people can learn to cycle without aid within two hours. But of course, like skating, it will also depend on many factors like sense of balance and fear.
I noticed nearly all the students who came to me had tried to learn to cycle themselves or their friends and parents had taught them before. But they still could not cycle. The main reason was they were learning from someones who did not have a systematic teaching method.
Your method vs my method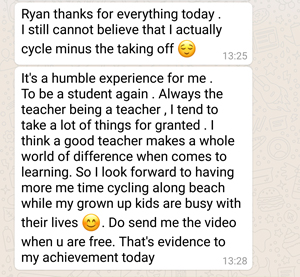 The most common approach is the hold-the-handle-bar method. This method is workable but very unproductive because it takes a long time for the learners to condition their bodies to balance on the 2 wheels independently. And most of the time, the runner who held the handle bar was so exhausted as they ran with the bicycles. Not forgetting the backache if you need to bend over when teaching small kids. Eventually they would ask the learners to practise themselves. Normally at this moment, the learners felt sorry and discouraged. Many learners gave up at this point.
Most students began to understand my cycling coaching methodology when they attended my lessons. There is no rocket science. I just break the cycling movement into different stages and students learn them phase by phase. This is not a trade secret but please don't call me and ask how I teach. This method reduce the chance of falling. It also let your body and mind to absorb the new body movements and adapt gradually. In the process, I will correct your body posture and coordination so that you can focus on balancing. My method actually allow me to coach up to 3 students at one time.
"My husband has been trying for 2 months to teach our girls to cycle whereas you only take 2 hours. That's amazing!" Her husband got backache as he had to bend over to hold the bike and ran with it.
Cycling Rates & Packages
I only do private classes which students have to formed among themselves. Do not request to join an existing class.

If students book a 2 hours single cycling session but only able to last 1 hour due to fatigue, I will still charge the lesson for 2 hours. This is to prevent students from abusing my slots.
For more than 3 pax, the rate remains at $70 for a 2 hours single session.
Please note that the bigger the class size, the less attention I pay to each student.
Outline of the cycling lessons:
1 hour and 2 hours single cycling sessions.
Maximum 3 pax.
Learners must be at least 6 to 60 yrs old.
Own choice of training venue which has to be at least half the the size of a basketball court.
Student will need to use own or rent bicycle.

If you are using own bicycle, make sure your heels must be able to touch the ground firmly when sitting on the saddle. No tip-toe. Inflate the wheels prior to the class.
If you need to rent bicycle, please view the bike rentals and venues here. I will meet you at the bicycle kiosk and select the bicycle for you.
Cost of bike rental will be adsorbed by students. About $8-$15 per hour depend on bike models, day/night and weekday/weekend.

I don't rent out and transport bicycle to students even with a fee. I only provide skating and cycling coaching.
Come to class in sport attires and running shoes. Bring some drinking water.
Safety gears are not mandatory for cycling classes but put on if already have.
How to make payment?
Full payment will be collected on first lesson.
Payment can be made in
Using own bicycles or renting
If you want to use your own bicycles, make sure your heels can firmly touch the ground. No tip-toeing. We can also have lessons near your places if there is suitable ground for cycling lessons. You can also use shared-bike (Anywheel, MoBike, SG Bike) if they are not too big for you.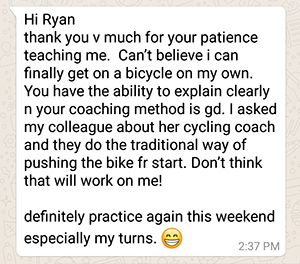 However if you don't have a bike and shared-bikes are too big as your heels can not touch the ground, we will have to go to the bike rentals. View here for bike rentals and venues.
Will I be able to cycle in 1 session, or how many hours shall I take?
I have no superpower to predict whether you will be able to cycle by reading your emails or hearing your voices. Without seeing how you perform in my class, there is no way I can confidently say you will surely cycle after the lesson. I do have a handful of sporting students manage to cycle within 30 minutes. Majority took between 1 and 2 hours to balance. A few gave up when they failed to cycle in one session. But I can proudly say that 90% of my students can cycle in 2 hours.

All the students in the cycling videos on this page took a 2 hrs Single Cycling Lesson session.
There are many factors why some can cycle within a short period, likewise there are also many factors why some can't. Mental fear and afraid of speed are the main obstacles. Let's be realistic, everyone is not equal in motor skills.
But if you fall in the following catagories, you may book 1 hour session.
Can balance and turn well on 2-wheeled scooter
Physically unfit to sustain 2 hours of lesson
After watching his 3 kids managed to cycle independently in a hour plus, the overjoyed father said, "You are amazing! Ryan. I have no patient and tactic to teach my kids to cycle…. I have been waiting for this moment to go cycling with them for long time."
Can I book 1 hr first and extend another hour after the 1 hr session?
You can if the following hour is not taken by other students. The following hour will be considered as another 1 hr Single Cycling Session and charged according to its rate.
Shall I purchase a new bicycle for the lesson?
If you do not have a bicycle, I will recommend that you rent for training. I will use a bicycle which learners' heels can touch firmly on the ground. Parents tend to buy big bicycles so that their kids will still able to continue to cycle it when they grow up. However if you get a big bicycle and learners' heels can hardly touch the ground, it will adversely affect the learning.