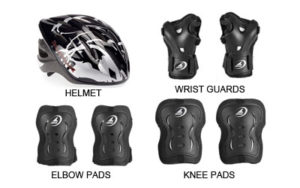 Safety Gears
Skates / Rollerblades – There are many type of skates like freestyle, aggressive, speed, recreational and so on. For newbies, get recreational skates with at least ABEC-5 or ILQ-7 bearings.
Safety gears – Don't save money, save yourself. Wrist, elbow and knee guards are mandatory. Class will be forfeited if student turns up without safety gears. As for helmet, students had feedbacked to me it's hot and uneasy deal to local warm climate. So I'll leave it to you whether you want to wear although it's good to have. But if you think you are poor in balance and are going to fall a lot, put on the helemt.
It is mandatory to wear safety gears in class. Students will be likely to fall when learning new skills. Class will be forfeited if students turn up without safety gears.
Apparels
General sport wears – Avoid jeans as it could restrict your movements. – Long sport socks are prefer to ankle socks. They prevent abrasions at the shin area for some people. – If your lessons are at open area under the hot sun, wear a cap.
Class Venue
We need a flat ground at least the size of a badminton court for the skating lessons.
Void deck. Some void decks have long stretch of pillars-free ground which can be use for skating.
Basketball and badminton courts. For condo residents, please check with the management if you need to book the courts.
Multi-story car parks. The top levels are usually empty and well sheltered from sun and rains. So you may want to check those MSCP at your areas.
Water
You will need drinking water, especially for kids.