All my lessons are PRIVATE classes. Students will have to form your own classes. No walk-in to any existing classes are allowed. The fees are same regardless of levels and age.
It's always good to apply what you have learned. Thus, I have included a 2 hours park skating for those who are keen to skate in one of the parks – East Coast Park, Punggol Waterway Park and Garden By The Bay. I will guide students to tackle slopes, uneven terrains and avoid other obstacles.

The prices are fixed and NOT negotiable. After comparing the rates, transportation cost, traveling times and convenience, if you still think someones are offering better deal, please go ahead and book their classes. Do not come to me with your own equations and request for discounts.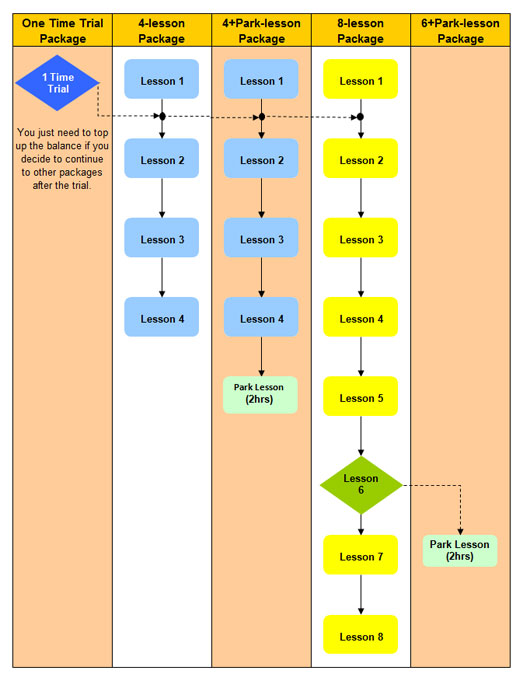 Features
All the lessons are 1 hour each, except the park skating session is 2 hours.
To enjoy the Special Rate for 8 lessons, full payment has to be made not later than 2nd lesson.
All the rates are fixed and NOT negotiable.
Lessons will be conducted at students' residential or work areas (eg, void decks, roof level of multi-story car parks or nearby parks). This will save fares and times on students' transportation.
Students will have to bring their own skates and safety gears. It's mandatory.
Students are to wear safety gears at all time during lessons. In fact, students with safety gears are more daring and willing to try new skills.
Experienced skaters who are not willing to wear safety gears in my class may want to register with other skating schools.
In group classes, there will not be make up lesson for absentee.
All students skate at their own risks.
How to make payment?
Full payment will be collected on first lesson.
If student want to convert to 8-lesson package after the first lesson, full payment has to be made NOT later than second lesson in order to enjoy the Special Rates.
Payment can be made in
How can I trust you after I have made the full payment?
Frankly speaking, I have no idea how can I convince you. I can only say that I have been coaching since 2003 and have more than 3000 private skating and cycling students as on August 2021. All payments are collected up front or when we met for first lesson. You can paid by PayLah or PayNow if you want to keep transaction record.
One Time Trial package
This 1 hour session basically let the student feel rolling on wheels. It comprises learn to fall safely, stand stationary, walk and roll with skates. This session actually prepare the student mentally and physically, and what to expect, if he wants to sign the full package.
Please take note that my schedule can be very packed, so there is possibility that after the trial, the next available slots may be many weeks later.
Per Lesson package
Sometimes, my ex-students contacted me as they just wanted to book one lesson to refresh a particular skill. I also had students from other schools wanted me to help them to improve a particular skill.
Students who don't feel comfortable to make full payment upfront may want to sign up this Per Lesson package. However please take note of the rates, and students can only book 1 lesson after another.
4-lesson package
This level focuses on the fundamental skills like safety, stride 1, A-frame turn and heel-brake stop. Students will also learn how to tackle slopes and other obstacle at the lesson venue.
4 lessons + 2 hrs Park package
Students who have taken some basic skills from other skating schools can consider this program. Beside learning new intermediate skills, a 2 hrs park skating session is added.
Park lesson includes
Safety awareness of other park users, kids, cyclists, runners and dogs.
What to look out when stopping and turning.
How to tackle uneven terrains, twigs, seeds, pebbles, etc..
More slopes training.
8-lesson package
On top of the fundamental skills, intermediate skills like parallel turn, spin-stop, crossover and T-brake will be taught. This package enhances the students with intermediate skills to skate faster and apply more efficient ways to turn and stop.
6 lessons + 2 hrs Park package (Most popular package)
If your motive is to able to skate confidently and independently in the parks, personally, I will advise you to take up this package. This package covers fundamental and some intermediate skills.
Park lesson includes
Safety awareness of other park users, kids, cyclists, runners and dogs.
Learn to skate faster and efficiently.
What to look out when stopping and turning.
How to tackle uneven terrains, twigs, seeds, pebbles, etc..
Fitness skating for those able students.
More slopes training.
Students who intend to book park lesson are strongly advised to take Saturday or Sunday morning class, between 8-11am. This is to avoid the bustling crowd and hot weather.
Not sure which package shall you register?
If you need my advice, you can write in to me and briefly talk about your background and what you want to achieve from skating.