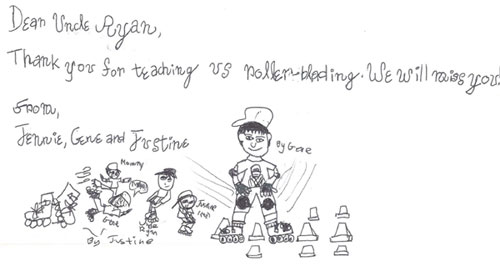 Hi, I am Ryan Aw, an international ICP (Inline Certification Program) certified Inline Skating Instructor.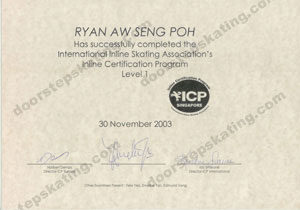 ICP trains and certifies inline-skaters to become professional instructors. ICP has been industry proven to be safe, fun and effective since it started in 1991, it is currently the most widely accepted standard for inline skate education in the world.
I have been coaching officially since I obtained my ICP in 2003. I started coaching at one of the skating schools before I left to do my own private coaching. Every skating school had its own unique standard curriculums and coaching methods to follow strictly. So when the students progressed to the next session and were coached by a different instructor, the students should be able to proceed with the same methodology. However not all students were suitable for the one-for-all curriculum and coaching method. So even I had many ways to teach a particular skill, I couldn't demonstrate them.
Deal to the restrictions, I decided to do my own part time coaching at flexible times. Doing my own private classes allow me to adjust and improve my program anytime during the class to suit the students. And ever since I've started to provide private coaching, I have coached more than 1800 private students (as of October 2019).
Resting on the bench and drinking water. The little boy skated towards me and asked to sit on my laps. Lifted him onto my laps. He turned around and smiled, "I love you, teacher."
I only started to learn inline skating in my late 20s. I could have started skating when I was younger but I didn't know how to start until colleagues guided me basic walking with skates. My colleagues were good skaters but they were not good in teaching. I fell many times and had bruises on my limbs even though I wore safety gears. I wasn't taught the proper way to fall. I spent lots of times struggling to figure out the right skating techniques and, in the process, bruises were common signs.
I can still remember when I told my friend I was learning to skate, she said,"Huh? So old already still learn skating?"
However, sometime later, I could see her envious expression when I cruised around her.
I have been skating for more than 10 years and the passion has never faded. I love cruising and speeding, sometimes, along the coastline at East Coast Park. It's thrilling!
Stop envying. Do It!
I have been coaching for more than a decade and have over a thousand of students. My students come from all walks of life. Coaching is my passion and I take pride in it. There were times when I was very strict with kid who misbehaved in my class, ignored my instructions and showed no respect. But I also had come across supportive parents who said, "Please scold if my kid doesn't listen."
Never in my mind I would become a coach when I struggled to learn skating myself. Not forgetting to mention countless times of falls and bruises. It was after many months of perseverance and strong passion for skating, I was able to cruise confidently along ECP. Many times when I gave some advices to newbies along the track, they asked me whether I was a coach. And that triggered "Hey! Why don't I give it a shot?!" Thus I signed up the ICP and since began to coach skating.
I have managed many types of students. Some are mischievous, quiet, shy, outspoken, humble, etc.. Some need continual motivations and encouragements, while some are very self discipline and enthusiastic. Dealing with people of different characteristics need different approaches. I could be friendly, strict or even fierce when needed.
What keeps on energising me to coach is the satisfaction of seeing students from struggling to stand and finally able to skate confidently. The smiles on their faces are just lovely.
Here are 2 students I want to mention.
The first one was a 60 years plus old man. It took him quite sometime to decide to learn skating. Frankly, skating is more injury prompt than other sports if we don't do it right. We progressed slowly and cautiously. It took him 3 lessons to execute the striding and gliding movements. He was very happy when he was able to coordinate the movements. It was like he had gone back to his childhood playtime.
The second one was this 10 years old quiet girl who had a hard time to stand and balance on her skates. She could be a slow learner but she was very persistent and never gave up. She showed no sign of fatigue or want to rest. I was very impressed by her determination. When she finally able to do spinstop at the end of the course, she was elated. I remembered when I was packing to leave the class, she walked to me and said,"Uncle, thank you for teaching me skating." That was really sweet.